Commitment to quality
Mercy has an absolute commitment to quality.
All staff are encouraged to create or be involved in projects that drive quality improvements. These projects are celebrated annually at Mercy's Quality Awards night and have resulted in some truly innovative successes including sustainability initiatives through onsite worm farms, patient room service, and the automation of patient processes.
You can learn more about each of the 2020 Mercy Hospital Quality Award projects in these YouTube videos.
Supreme Award Winner
Nothing about me without me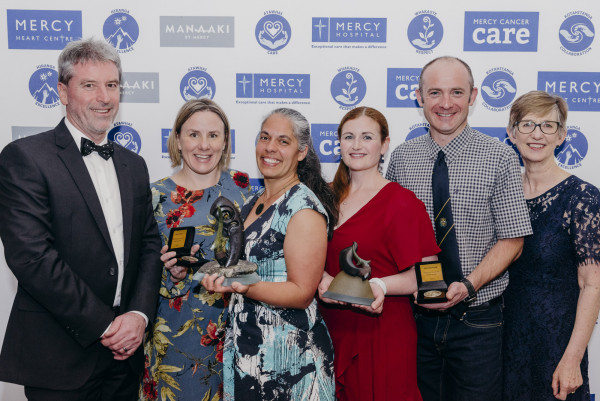 2020 Quality Award Supreme Award Winners 'Nothing about me without me'. L-R: Richard Whitney, Amy Porter, Pam Prasad, Amanda O'Connor, Matt McDonald, Judith Vercoe.
Winners
21st century preadmissions
PITStop: Post-operative handover tool
Partnership with patients to improve MDRO information
Highly Commended
The ins and outs of managing crates
Improvements that centre on patient safety are recognised each year with the awarding of the Catherine Scally Patient Safety Award.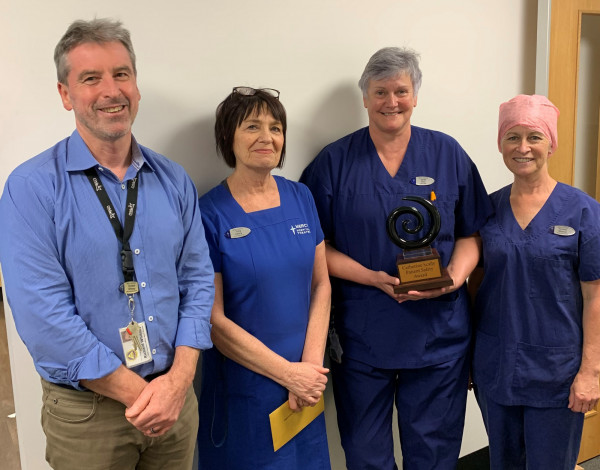 2020 Catherine Scally Patient Safety Award winners 'PITStop: Post-operative handover tool.' L-R: Richard Whitney, Tricia Cairns, Sarah Eton, Richelle Manson
DAA Group EQuIP Accreditation
Mercy participates in the voluntary EQuIP (Evaluation and Quality Improvement Programme) Accreditation cycle run by the DAA group.
EQuIP audits ensure quality improvement remains a focus across the hospital, allows for Mercy to benchmark itself against similar organisations and helps enable Mercy to be a leader in delivering health care.
Industry Awards
2020 Westpac Otago Business Awards
Mercy was the proud recipient of the Excellence in Service and Supreme Business Excellence Awards at the 2020 Westpac Otago Business Awards.
2018 New Zealand Private Surgical Hospital's Leaders in Quality Awards
In 2018 Mercy Hospital received both the Clinical and Non-Clinical Awards, and ultimately the Supreme Award at the New Zealand Private Surgical Hospitals Association's biennial Leaders in Quality Awards.
2014 WorkSafe New Zealand Awards
Mercy won the Best Initiative to Address a Workplace Hazard category at the 2014 WorkSafe New Zealand Awards for its work in mitigating the risks from electrosurgical smoke plumes.
Patient feedback
Patients are sent an invitation via email or text message to provide feedback on their care two weeks after discharge.
Mercy Hospital uses Cemplicity to gather patient feedback. Responses are anonymous and not able to be traced back to individuals.
If you prefer to provide written feedback, forms are provided in the reception areas.
In addition to this patient survey, feedback can be provided at anytime by contacting our staff.