One of Mercy Hospital's four values is Whakaute (Respect). Central to this is considering the impact of our decisions and actions on our natural resources and environment. Our founders, the Sisters of Mercy, also have a focus on the increasing importance of sensitivity to the environment – one of their global action themes is 'addressing degradation of Earth'. This underscores our commitment to operating sustainably.
In February 2020 we achieved Toitu Enviromark Silver certification.
We are now working towards Gold certification and are excited about the innovations and focus on sustainability that that this will lead to.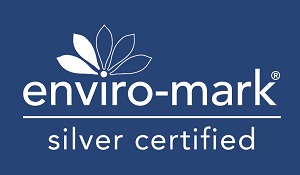 Our current sustainability initiatives include:
Our Product Evaluation Committee considers all proposed new products against sustainability criteria including reusability, recycling potential/biodegradability and product origin.
Extensive recycling programmes including plastics, paper, cardboard, medical PVC, glass, aluminium and fluorescent light tubes.
Careful, audited disposal of hazardous medical and cytotoxic waste.
Continuous planting to maintain our green, park-like campus environment.
Cultivation of a small kitchen garden (herbs, greens, salad, tomatoes, lemons) and a worm farm for food scraps recycling.
Where possible, selection of local, responsibly grown food for our patients and staff.
Energy-efficient lighting.
Smart building controls to minimise power and water consumption.